Hair Creation
Removal
Hairdreams easyStripper removes hair strands in a fully automatic, fast, gentle and easy method.
"EXTENSIONS" OUT – HAIRDREAMS IN
At the end of the wearing period, after about 4-6 months, the hair is removed. Hairdreams offers 2 removal systems. Both removal systems offer fast and easy removal without damaging one's own hair.
Cost savings through "re-bonding"
When using the high quality Hairdreams "7 Star Special" hair, costs can be supplemented by a "re-bonding" service. At the end of wearing period, and after removing, the hair can be sent back to Hairdreams and given a fresh bonding. After a short period, the strands are shipped back for reuse. With proper care, the "7 Star Special" hair can be reused up to 2 times. This results in a total wearing period of about 1.5 years
HAIRDREAMS QUICK REMOVAL SYSTEM
This flexible system is for the extremely fast removal of hair creations as well as tangling. Hairdreams QUICK REMOVAL SYSTEM consists of a Detangler Brush and the Hairdreams Bonding Gripper.
The solution
First the bonds are treated with a special solution: the Removal Solution. Then, they are loosened with the Bonding Gripper and easily pulled out. The process is completed by combing out the remaining bonds.
HAIRDREAMS EASYSTRIPPER – QUICK AND GENTLE STRAND REMOVAL
For easy and gentle removal of hair strands
The Hairdreams easyStripper is a special electronic device made for the automatic removal of bonded hair strands.
The solution
The easyStripper enables quick and easy removal of hair creations and does not rely on arm power and is gentle to the joints of the person removing the strands. In addition, it creates minimal tension on the client's scalp, is stress-free and more comfortable for the client. The highly effective Bio Remover Concentrate is automatically dispensed and can be adjusted depending on the individual needs.
FULLY AUTOMATIC REMOVAL OF HAIR STRANDS WITH THE HAIRDREAMS EASYSTRIPPER – WATCH THE VIDEO TO SEE HOW IT WORKS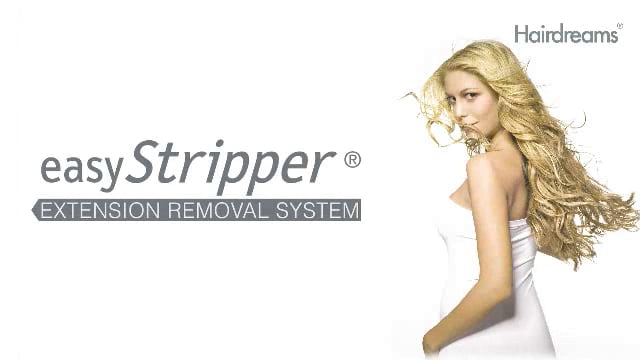 Hairdreams Partners working with the gentle easyStripper System are especially marked in the Hairdreams Partner list.